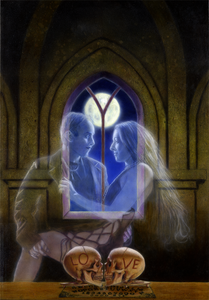 It didn't work on this side of life but when the sculls are arrange to create the shape of a broken hearth, unity happens across the line in the shape of "LO   VE"  
This  20" X 30" high quality Giclée canvas reproduction pre-stretched in what's called a gallery wrap. Highly detailed, with vivid colours, this is a very accurate representation of the original oil painting on canvas. Each canvas is inspected and signed by the artist. (Due to the extensive time requirements for printing, and quality control please allow 3 days for shipping.
The smaller size canvas come pre-stretched with a gallery tape around the edge and ready to hang.